[vc_row full_width="" parallax="" parallax_image=""][vc_column width="1/1″ css=".vc_custom_1432989337947{margin-top: 20px !important;}"][/vc_column][/vc_row][vc_row full_width="" parallax="" parallax_image=""][vc_column width="1/1″][vc_column_text]
Piano notes for beginners

Although there are 88 keys on a standard piano, it's only seven notes you need to learn. These notes – CDEFGAB repeated all the way up and down the piano. If you look at the top picture on the right, you see two black keys together and 3 black in a second group. This is a very good starting point for finding all the notes over piano registers. By finding back the two black keys in the group so we can easily slip down the first and find the white key and the note C below. Similarly, you can find all Cs by looking at the two black keys up and down on the piano. C is in the middle of the keyboard and is called middle C.
Watch your piano or keyboard begin to familiarize yourself with the shape of the black keys are in groups of 2 and 3. This is a beginning to discovering the note name because it forms a map of where to play.
Sight Reading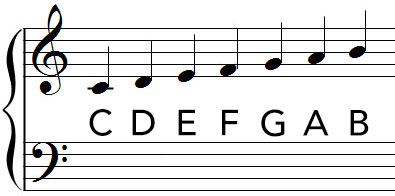 After learning how to sit properly and use the correct fingering to play the notes,  the next important step is to learn how to read music.
The chart here  shows how the notes are written as notes on a musical stave. During the lesson, I will show how easy sight reading really is. By learning a little at a time so you will soon learn to read music on your own![/vc_column_text][/vc_column][/vc_row][vc_row full_width="" parallax="" parallax_image=""][vc_column width="1/1″][vc_column_text]
Extra Music Resources
Blank Manuscript Paper
Treble and Bass Clef Manuscript Paper
Home Lesson Plan for Piano Lessons[/vc_column_text][/vc_column][/vc_row]